Summarizing what's new and what is staying the same going forward
With the MASS software website getting a total rebuild, it is now quicker and easier to get set up with the MASS software than ever before. There have been some other upgrades made to the underlying infrastructure of the website and licensing system over the last few years that have allowed us to offer this new subscription based licensing model.
Several aspects of the software's purchase and renewal process have changed. A summary is available below with links to more detailed explanations and links to more information included where it might be helpful.
Want to jump ahead?
Summary
These points are each covered in further detail below
Questions? We are here to help!
Serial numbers are similar…. but different!
New serial numbers created by MASS no longer have a static expiration date and can continue to be used as long as the account is maintained online. This means that each year, you will no longer be given a new batch of serial numbers to give to every engineer and have them re-activate.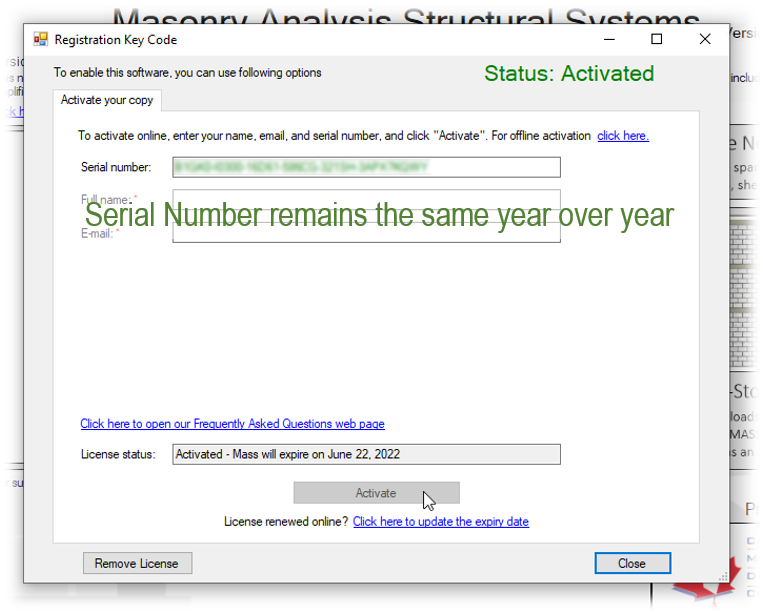 These new serial numbers will remain the same and can be used on the same computer indefinitely, as long at the online subscription is maintained as well.
No more restrictions on multi-user Office Packages
Now that working from home has become the norm, the notion of grouping offices based on physical location has been rethought and updated. All new licenses purchased as of 2021 can now be shared within among all office locations.
For example, the Medium Office Package can be used to activate MASS on 10 computers within a company, regardless of where those users are located. Note that each license is still only valid for a single user's physical computer (Desktop PC or Laptop, no server option)
MASS has always offered different sized office packages to extend a reduced per-user renewal rate for offices purchasing in bulk. One stipulation that previously accompanied the terms and conditions of such packages was that any of the Small, Medium, or Large Office Packages could only be divided among users working out of that same physical office location, differentiated by primary address.
This meant that companies would formerly be required to carry a different office package for each office location, rather than share a larger package among everyone. In an attempt to mitigate the increase in cost for companies with a more distributed workforce, there was an additional multi-office discount proactively extend to many larger companies. This is no longer necessary now that packages can be shared within a company among physical office locations.
Any of the office packages can now be divided freely among users within the same company.
There is a new subscription process for renewals
MASS Licenses will be maintained using a more rigid renewal process that is handled through our new online sales platform. The old system was mainly a function of technological constraints but over the last few years, we have been upgrading our infrastructure behind the scenes to offer an experience that resembles a modern subscription service.
Please note that when transitioning to the new platform, you will be required to purchase a new license. If you are eligible for renewal status, you would have been sent a discount code, bringing the initial purchase price down to match the ongoing renewal rate.
Once a purchase is made, subscription renewal payments are automatically set up and can be managed under your account. This subscription is recurring and maintaining an active subscription status means that all copies will continue to function using the original serial numbers attached to the initial order.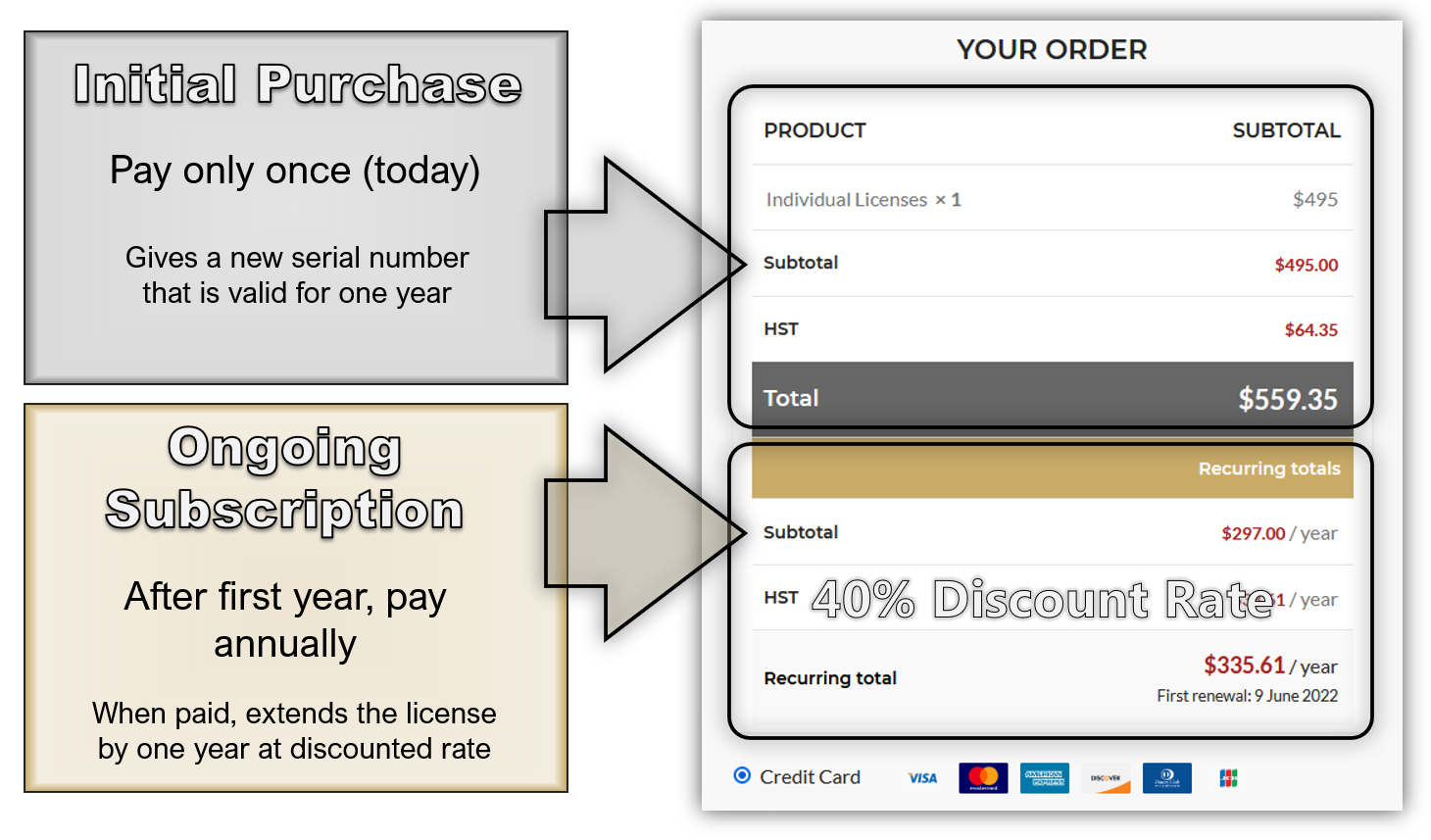 Software License Pricing has Changed
Whether it's the first of last thing that might have jumped out to you, you've likely noticed our prices have changed.
These changes were not made lightly and were made in an effort to strike a balance for as many use cases as possible. The purchase price and renewal rate were brought more closely together to accommodate those who prefer to purchase the software as needed while still offer reasonable cost savings for those who use it on a regular basis.
Considering that we are able to come up with a stable, reliable design and up-to-date software package, as well as access to timely support from qualified engineers, we feel that a MASS Software license remains a valuable asset to any design firm who does work on masonry related projects. Programming and offering engineering support are very expensive, and this is all in addition to the cost burden of supporting and maintaining our existing server infrastructure for license management as well as maintaining and upgrading our online sales website.
This is probably a good time to remind everyone that MASS is far from a profitable endeavour where the vast majority of our budget is generously covered by industry support. Since the masonry design market within the Canadian market is relatively small, there have not been any private sector investments made to what the industry saw as a need to support the design community. I don't think it's an exaggeration to say that software development puts the "not" in "not-for-profit"! The MASS software is a designer-focussed initiative, complimenting our educational courses and textbook, aiming to help equip designers with everything they need to design masonry structures.
Personal note from the author, Brad Crumb:
I am all ears to all feedback, constructive or otherwise so please do not hesitate to get in touch if you would like to have your say. Obviously I am biased but I believe that MASS software is valuable resource that offers good value for money for Canadian designers. If you would like to weigh in with your own feedback or ideas on how the software can be improved, be sure to reach out to support. It's the only way we can know what features and aspects are important to designers for their upcoming projects!