The process looks a little different but will simplify things going forward
With the launch of this new and improved website, all MASS licenses are being transitioned to a new type of serial number that will continue to work once the initial expiration date is reached as long at the original license is maintained. They will look similar to the older ones you might be familiar with but the key difference is that they no longer have a rigid expiration date, so as the account is renewed, each copy is automatically extended!
A brief video is shown below to demonstrate the process of purchasing your new licenses.
One a license is purchased, it will need to be renewed in order to continue using the software. This is how the process works:
Step 1

: Purchase a license, get a serial number

All of the different software licensing packages can be viewed here, and will set you up with the number of licenses you are interested in. The licenses are all sent to you to be passed along to the engineering users (if you are purchasing for others).

These serial numbers can each be used on one computer and will continue to work as long as this order is maintained, like any subscription service.
When checking out, please note that you only have to pay the top portion of the order today
Subsequent renewals are automatically scheduled one year from the date of the initial order.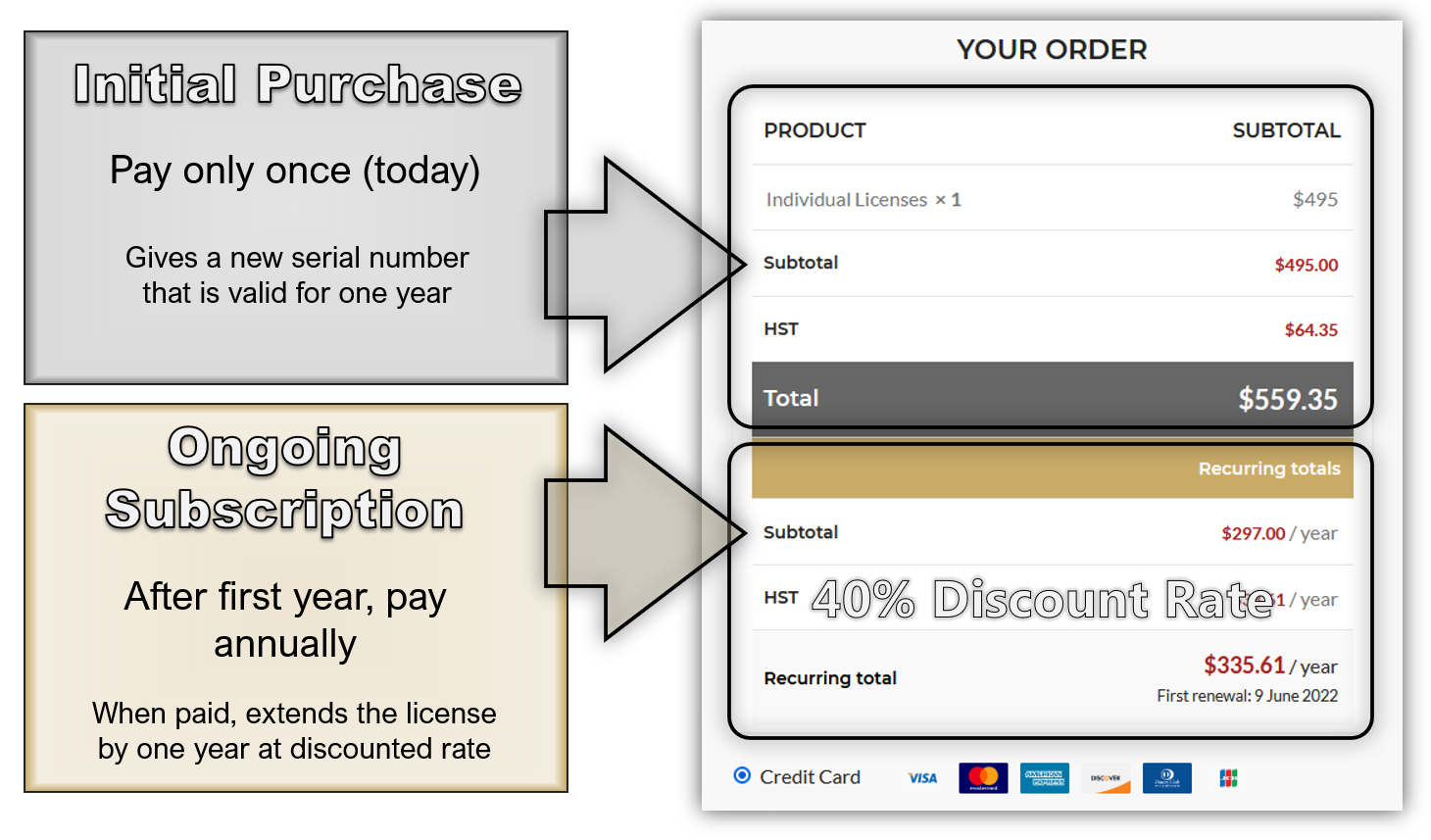 Maintaining an active subscription is the cheapest way to have MASS available for your next project. Renewals are offered at an actual rate that is 40% discounted from the purchase price. You will get a reminder ahead of the next invoice and if you do not wish to renew, you can disable the option to auto renew under subscription settings on your account page.
Discounted rate only applicable to maintained subscriptions that have not expired.
Once your order is complete, you will be sent a serial number that requires MASS Version 4.1 to use. You can download the new version for free from the Downloads page (a link is also emailed out to you) and the instructions regarding how to download, extract, and install the software are available here. Once installed and running, you can activate it by following the guide available here.
Step 2

: Next year, renew the license before it expires and keep everyone up and running!
As soon as a license has been purchased and activated, the annual renewal is scheduled at one year away. Don't worry, you will be reminded about this ahead of next year's renewal!
Once that time rolls around, you can pay the subscription and all of the engineers with licenses will be able to continue using the software for the upcoming year. This process is repeated every year to continuously extend the licenses out for the following one year period.
Any Questions? Let us help you
Please feel free to contact us with any questions or concerns! We understand that any transition can be difficult to navigate but we are aiming to provide a better experience and reduce headaches down the line.