What to do if you get a new computer and need to move your license over
MASS Licenses are restricted to use on only one machine per user. While companies can get per-user discounts by purchasing several MASS software licenses in groups, each individual serial number can be used on only one standalone computer. This process is intended to facilitate the easy license transitioning when computers are replaced and can be done yourself throughthe process outlined below or by submitting a request to MASS technical support.
How to transfer a license yourself
New in the MASS Version 4.1 activation window is an option to remove a license from your local computer: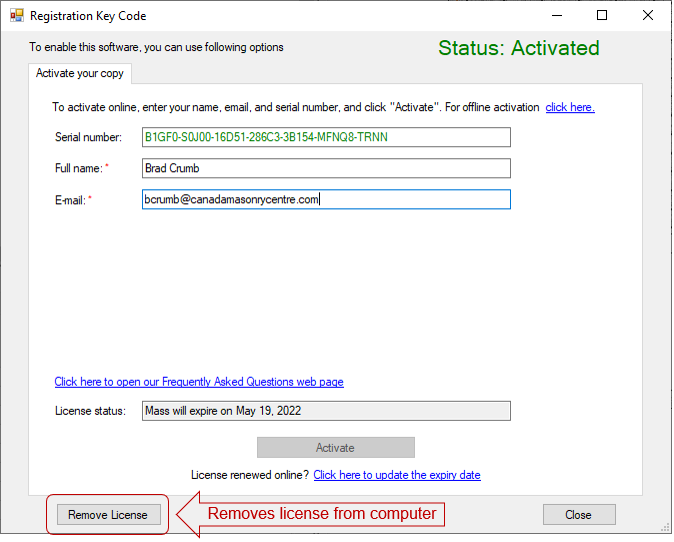 Upon clicking the button, the software will pause for a few seconds while it communicates with the license server and awaits confirmation that the request has been received. The activation window will then be refreshed to update the fact that it is no longer activated, as shown below: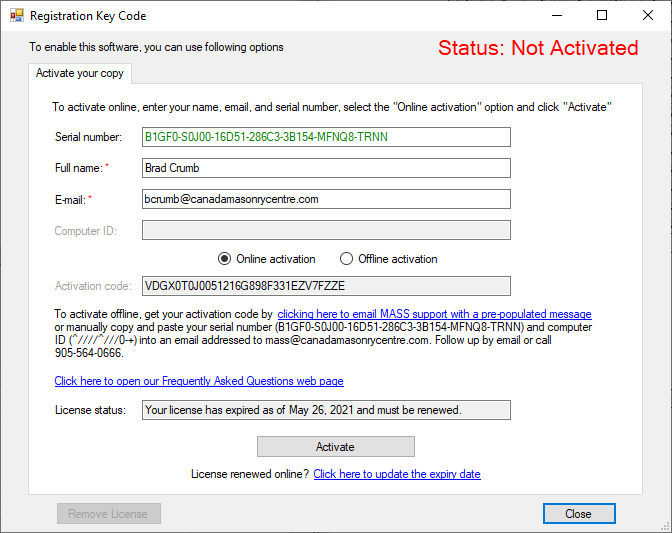 Since this communication is done directly with the MASS license server, it can be activated online on the new computer immediately.
Note that this is subject to the License Transfer Policy which can be viewed here. If a license has already been transferred within the policy window, an application will need to be sent through MASS technical support.
How to Request a License Transfer
In cases where the original machine is no longer accessible or a transfer that is not within the license transfer policy is required, a request can be submitted through MASS support. To begin the process, you will need to visit the transfer policy page, linked here, and fill out the form at the bottom of the page.
A request will be sent directly to MASS support and you will be contacted and possibly asked to supply more information which is handled in accordance to our privacy policy.
MASS support will then be able to walk through and assist you in moving the software license to a new computer. Please note that transfer requests may not be granted at the sole discretion of MASS support. These may be denied if the request is considered to not be compliant with the license transfer policy.
Still have Questions?
MASS Support is available to assist with license transfer questions, as well as anything having to do with the design or construction of masonry structures. Please do not hesitate to get in touch if you need anything at all.